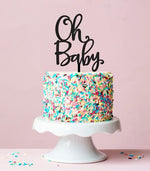 Stuck on a theme for your next baby shower? We have put together some super cute suggestions to help get the party started. From sophisticated to simple these baby shower gender neutral themes are the perfect way to welcome the new edition. Get busy brainstorming matching invitations, mocktails and cakes with these themes in mind that will blow your guests away and the Mum to be!
1. Oh Baby - You can really team this theme with any colors or textures you choose. All you need to do is choose a funky font and use the words 'oh baby' as you wish. Looks awesome as a cake topper, background, garland or balloons.
Image from hooraymag.com
Image from Weddbook
2. Born to Be Wild - In the words of Steppenwolf! This theme can go either way. It could be nature inspired with some cute woodland creatures or even explore some palm tree theming with flamingos.
Image from meetyourforeveronline.com
Image from petitandsmall.com
3. Twinkle, Twinkle Little Star - How I wonder what you are? This theme is very sweet. We love the use of the mylar balloons. Stars are very gender neutral, add a sprinkle of glitter and a few touches of gold!
Image from Inspired by This
Image from My Practical Baby Guide
4. Boho Baby Shower - For the relaxed peace loving Mum to be! Her and the guests can zen out while making dream catchers for their take home party favors. Missed match decor and flowers everywhere are a must for this theme.
Image from Style Me Pretty
Image from Harlow & Grey
5. About to POP! - You can have so much fun with this one. Think rainbow colors, sprinkles and confetti, lots and lots of confetti!
Image from Baby and Breakfast
Image from Brit + Co
6. Mum to Bee - Cute little honey bees with a twist of fresh foliage and rustic accents. Try adding some bumble bee cake pops or some honey flavored desserts.
Image from On to Baby
Image from The Realistic Mama
7. The Cow Jumped Over the Moon - How cute and clever is incorporating a favorite nursery rhyme as the theme or as a shower game?
Images from How Does She
8. Shower Theme - Still an old favorite. Fluffy clouds and pastel rain drops. Get creative with a backdrop or you can even go as far as making your dessert table look as though its floating in the clouds.
Image from Mountain Laurel Handrail
Image from Etsy
9. The Adventure Begins - Isn't that the truth? This little number could use travel or even vintage hot air balloons for the theme. The choice is up to you.
Image from Hip & Hooray
Image from Frosted by Nicci
10. A Simple White Touch - Last but not least is a very elegant no fuss theme. Minimal with the use of crisp whites and fresh foliage.
Image from 100 Layer Cake-let
Image from Pink Peonies