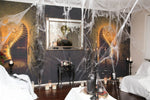 Some say turning 30 is scary. And well, in this case it was absolutely terrifying! Mary Ronis designed and styled this Victorian masterpiece for her client Sophie, and the results are positively chilling.
Mary recalls the event. 'When my amazing client Sophie called me and gave me the brief for her 30th birthday, I wanted to scream from excitement! I couldn't wait to transform her contemporary home into an old haunted Victorian house! We installed everything from the staircase backdrop, to the floating candles in the ceiling, to the wall covered in black frames of widows and their families, to all the cobwebs. Altogether, it was a 9 hour process.
Our vision was to create a setting that was a little disturbing and yet sublimely beautiful at the same time. We created a "ghost" in her mirror in the lounge room so that guests would have to look twice when walking past. That was our favourite.
Her guests loved it. They all came dressed up in theme and enjoyed a tarot reading and the gothic glamour of the cake display and lounge area outside.'
Vendors
Styling, Concept & Design: Mary Ronis Events Photographer: Serena Cece Photography Flowers: Crazy About Flowers Cake: Baked At Home Backdrop design: Edge House Design Backdrop: Jo's Signs by Design Furniture: Sweet Heavenly Events Hire Strawberries: Strawberries and Co Black Table Risers: Party Atmosphere Catering: Events by Farrah Drinks: Drinkalicious Draping: Jack Symphony Events Makeup: Chelsea Povey Makeup