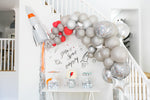 The idea for Stellan's space-themed birthday party was all his own. His bedroom has had some form of a space decor since it was a nursery, when it was, "I Love You to the Moon and Back." So, Royale (Stellan's Mum) knew she had to do something out of this world for his 4th birthday!
A lot of paper party companies have been coming out with celestial partyware, but she wanted to do something a little bit different, something that didn't involve a ton of dark blue. That's when they decided to go Ziggy Stardust with the theme and rock the silver.
The Dessert Pantry really knocked it out of the park with her treats. Royale asked them to come up with something that was similar as far as texture but that reflected the blue and red lightning bolt. They also created the most magnificent cookies and half of the moons were actually disco balls.
For the favors, each child had fun with his/her own jetpack as well as astronaut ice cream and a space laser beam that squirts water. She also found a rocket ship bounce house, which was a huge hit. Last but not least, the tablecloths and playmat could even be colored on as could the cardboard spaceship, another fun activity for the little astronauts! You could say they had a BLAST!
Photos: http://www.billyedonya.com/ @billyedonyaphotography Design/planning: http://butfirstparty.com/ Royale Ziegler of @butfirstparty Balloons: https://www.bonjourfete.com/ @bonjourfete Partyware: https://www.talkingtables.com/ @talkingtables,https://daydreamsociety.com/ daydream.society,https://merimeri.com/ @merimeriparty Treats: @thedessertpantry Calligraphy and Invite: http://meghannminiello.com/ @meghannminiello Piñata: https://www.etsy.com/SHOP/TINYGALA @tiny__gala Children's table:https://www.youtube.com/channel/UCce7vvR81qpuXqFfICoKw1g @rachel_metz Children's chairs and dessert table: https://www.wayfair.com/ @wayfair Tablecloth and Playmat: http://stoweyjoey.com/ @stoweyjoey Cake Stands: https://www.papereskimo.com/ @papereskimo