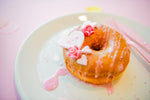 Where would we be without place cards at an event? No one would know where to sit! There would be chaos! Although traditional cards can be gorgeous, at OIP, we prefer something edible! Like these cute doughnut place cards, which just so happen to be an easy-peasy DIY. These cute doughnuts are perfect for kids and, let's be honest, for us adults too!
Doughnut Place Cards
Ingredients
Store bought doughnuts (or homemade if you're feeling ambitious)
Coloured fondant
Assorted sugar decorations: sprinkles, flowers, etc
50g icing sugar
2 tsp water
Tools
Small cookie cutters: hearts, circles, stars
Alphabet embossing set (available from craft stores)
Method
This DIY is incredibly customisable so get creative!
Combine icing sugar and water in a small bowl. Cover with plastic wrap. This will be your (delicious) glue!
Roll out fondant to approximately 5mm thick.
Cut out desired shapes in assorted sizes. You'll want a medium-sized shape so you have enough space to emboss your guests' names.
Choose the appropriate letters for your guests' names (remember to put the letters in the holder backwards) and emboss away!
Use the icing glue to attach your fondant shapes and sugar decorations to your doughnuts.