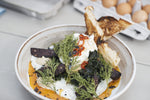 Every so often, we at OIP endeavour to share some delicious and easy recipes with our followers to make at home! Enjoy this scrumptious Turkish Eggs with Smoked Eggplant recipe we have below!
CHEF:
Jordan Lator from Morning After in West End, QLD
CHEF BIO
: Jordan is 31 years old and was born in Narbonne, France. He loves to cook south-east Asian food and Japanese for the amazing flavours. He loves Middle Eastern food for the intensity and the use of beautiful products. For Jordan, nothing beats Italian cuisine because of the amazing products that come from Italy. He travelled and worked for the last 12 years having worked in UK, Japan, Spain, France, New Zealand, Thailand, and finally Australia. He came here of the opportunities, awesome weather and lifestyle.
Turkish eggs - Dill yoghurt, chilli oil, crispy kale, smoked eggplant and Toast
Recipe:
Serves 4 people
Stage 1:
Stage 2:
1 large cucumber

50 g fresh dill

15 g garlic clove

1 fresh lemon

20 g sea salt blossom

10 g white pepper

300 g Greek yoghurt
Stage 3:
100 g fresh red chilli

50 g smoked paprika powder

100 g unsalted butter

100 g extra virgin olive oil

40 g garlic cloves

Pinch of salt
Stage 4:
Juice from 1 lemon

15 g garlic cloves

50 g fresh parsley

20 g sea salt blossoms

50 g extra virgin olive oil

2 tbsp smoked Eggplant liquid

200 g tahini paste
Stage 5:
300 g kale

20g sea salt blossoms
Stage 6:
Stage 7:
Butifarra negra or black pudding
Stage 8:
5 g black salt crystals

10 g fresh dill
Stage 9:
1 piece of organic sourdough sliced in half
Method:
Stage 1: Take the eggplants and set them over a burner and burn them on each side for a few minutes until the whole eggplant is black and soft. Set aside in a bowl, with a cling wrap on it, and leave until all juice has come out.
Stage 2: While the eggplant rests, start by making the dill yoghurt. Cut the cucumber in 4 and remove the soft heart part with a spoon. Grate it with a grater and squeeze all juice out. In a mixing bowl, add the dried cucumber, finely chopped dill, grated garlic, lemon juice, salt, pepper and finally the Greek yoghurt. Mix well until all is fully incorporated.
Stage 3: To make the Chilli Oil, start by chopping the fresh chilli very finely and grate the garlic with a micro-plane. Set aside. In a pan, add the smoked paprika and set over a burner on low until the paprika becomes fragrant. Then add the olive oil and cool down. In a different pot, add the butter and melt it down until the butter starts to colour, then add the finely chopped chilli and grated garlic. Cook for a couple of minutes then add the paprika oil with a fine filter cloth to avoid the paprika from getting in. Add the salt.
Stage 4: To finish the Baba Ganoush, start by peeling off all the charred skin from the eggplants and set in a robot coupe. Add the lemon juice garlic, olive oil and the eggplant liquid. Blend for a minute until there are no more chunks. Add the tahini and olive oil and blend again for another minute. Finally, add the parsley and salt, blend for a few seconds.
Stage 5: In a deep fryer, add the kale and cook for a minute until the kale becomes darker and crispy. Set aside in a bowl and add the salt to it.
Stage 6: Just before serving, poach the eggs for 2min and half in a vinegary boiling water.
Stage 7: Before serving, in a pan fry, sear the butifarra over a slow burner until tender.
Stage 8: Garnish the plate with black sea salt and fresh dill.
Stage 9: Serve with a toasted sourdough bread.
Stage 10: ENJOY!