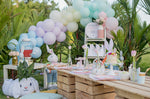 Easter celebrations are oh so much more fun outdoors! Hop around like the Easter Bunny himself, and find all his chocolates he's hidden! This fun and pastel Easter Garden party is one to remember! Believe Panama really hopped to it on the decorations! She's created a beautiful, pastel oasis for these little ones to embark on and explore! Entertainment galore, they are able to take a nibble or two on a sugar cookie by Cristal Demelaza, or smell the beautiful tulips!
The natural wood tones and green grass surrounding the styled picnic subtly contrasted against each other, ultimately enhancing the beautiful pastels that swirled together! The stand out balloon garland added height to the low level picnic set up, ultimately creating the wonderland that has been put together!
Adorable bunny features aided to the Easter design, from little rabbits that danced along the table, to the adorable floppy bunny ears on the centre piece cake! Every-bunny was tickled pink with these adorable additions!
A great way to celebrate Easter! We hope you feel inspired by this OIP approved Easter Garden Party to create your own picnic Easter celebration!
Planning, Flowers & Styling: Believe Panama
Cake & Desserts : Cristal De Melaza
Partyware: Party Loving
Photographer: Susana Cerdeira Fotografia
Easter Trays: Aliss Panama
Balloons: Raitza Jaen