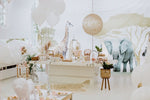 What an adventure this now two year old has had thus far! What better way to celebrate it through a wild wild safari! This clean and sophisticated party has pops of neutrals like beige, that ultimately compliments the pops of baby pink throughout the styling!
It's clear to see that this little one is quite the fan of Giraffes! The colour palette ties in beautifully with the colours of the giraffe painted right through the design! The playful repetition of the Giraffe motif has added the cutest accent of them all! The topsy-turvy one saying g'day on Florence's signage, to the little gold ones sitting on top of the cupcakes! The duplication of these untamed animals have really aided in bringing this safari theme together!
Natural wood tones aid in balancing the white surroundings of the design, whilst the gold accents create a slight contrast between wood and colour. The most adorable animal origami adds a surprise to the design, the subtlety of their creation adds a sophisticated touch!
Flossie's wild safari has been executed through sophistication and a clean cut design! We hope you are able to capture the beauty of this one! We sure have!
Concept, Styling, Props, Napkins: Jo Kalivas Events Styling
Stationary, Signage, Table Runner, Backdrop Designs: Star Fruit Design
Origami Animals: Stylish Paper
Balloons: Floating Designs
Cake, Doughnuts, Cookies: Mastello Creations
Cake Pops: Popolate Pops
Personalised Lollipops: Katrinahs Kreations
Grazing: Bellino and Co
Backdrop: Katebackdrop
Printing Banners, Singage & Table Runner: Clever Fox Print
Plywood Signage & Cake Topper: 360 Design Cut
Entertainment: Pistachio Entertainment
Photography: Anna Murray Photo & Sydney Event Photographer
Venue: Nubo Play