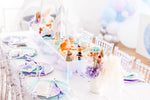 Another Frozen theme party? We're not sick of them yet! The girls from Frozen are the new princesses to be and we'll be seeing lots more of them. For this one Carly from Sassy Snaps Perth was asked to focus on Elsa and Anna. She was thrilled to try and focus on blue and purple combined for a new Frozen party look.
Of course the easiest way to get colours across a party is balloons, partyware and stationary which is exactly what they focused on. Carly started with the kids table, featuring the most gorgeous tiffany chairs (very princess) and included some simple partyware that was decorated with party favours for the little princesses. A lovely custom wand and canvas bag filled with cute favours to suit this theme, which included a build your own snowman kit. Smack in the center of the table was a stunning new acrylic riser filled with hand cut confetti and loose balloons to decorate. On top was a yummy kids graze which they loved diving into. For décor they added dried floral arrangements as well as few cute characters throughout the grazer. And it's hard not to notice that custom made paper castle centrepiece. Something they created especially for this setup which was so much fun. They also had a drinks and sweets station. Cake, cupcakes, cookies and some drink dispensers for the kids to dig into!
There was a gorgeous neutral toy hire package to keep the kids entertained as well as an activity table setup. The activity on the table was a decorate your own crown kit. The kids absolutely loved using the the glitter, stickers and stamps to decorate their own crowns which kept them entertained!
The whole party was brought together through the use of the stationary but Carly's favourite part were the little details: snowflake acrylic stirrers, and the hanging snowflakes.
Coordination & Styling: Sassy Snaps Perth @sassysnapsperth
Photography: Stories of a Mum @storiesofamum
Cake: Stormy Cakes and Creations @stormycakesandcreations
Balloon Garland: Whimsical Balloons @whimsicalballoons
Partyware: Balloon Fiestas @balloonfiestas
Grazing: Feast Signature Grazing @feastsignaturegrazing
Kids Table & Chairs: Allegra and Grace Chairs @allegra.and.grace.chairs
Goodie Bags: Oh Goodie Au @ohgoodieaus
Wands, Toppers, Confetti and Hanging Snowflakes: Wonderland Party Co @wonderlandpartyco
Hire Toys: Perth Toy Hire @perthtoyhire
Cupcakes & Cookies: Cakes 2 Celebrate @cakes2celebratebylisa
Dried Floral Arrangements: Bloom with Graze @bloom__withgrace
Cake Topper & Stir Sticks: XOXO Design Au @xoxodesign_au
Kids Craft Kit: Kids Craft Box Au @kidscraftbox.au