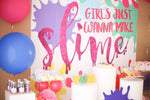 What a bright and colourful birthday! This party is giving us at OIP serious Nikelodeon vibes! What better way to celebrate a birthday than with a slime fuelled party! A rainbow colour palette beautifully reflects the fun and bubbly atmosphere this 6th birthday party has produced.
Girl's Just Wanna Make Slime signage acts as an exuberant play on words of the classic hit song 'Girl's Just Wanna Have Fun'!. The slime motif carried throughout the styling is reflected though the splats of the backdrop and cookies!
Bring in the SLIME! A slime making station for the girls to produce their own slime was a real crowd pleaser! A Tactile activity that provided hours of fun and enchantment! Whilst an abundance of sweets including fairy floss, sweets and cookies ensured the energetic atmosphere was maintained throughout the party!
Bright coloured balloons aided in the vibrant, playful design. Whilst white balanced the overall appearance of the design, acting as an accent colour to ensure that the electrifying colour palette truly popped and contrasted in the most effective way!
When the working day is done, these girls sure know how to celebrate! Girls Just Wanna Make Slime!
Concept, Design, Styling and Props: Beyond Elegant By Sherry
Slime Backdrop & Slime Cutouts: Yolz Fiesta
Slime Cookies & Cookie Cake: Luxe Cookies AU
Fairy-floss: Floss D
Kids Furniture: Mist And Co Event Hire
Paper Plates, Napkins, Table Cloth & Party Hats: Kmart AU
Photography: NM Photographs
Carla's Outfit: Bardot Junior
Chentale's Outfit: Decjuba Kids