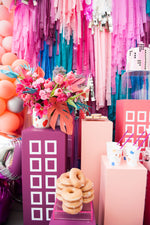 Calling all Superhero's... and their sidekicks! It's Luca's 8th birthday and there's no shortage of glitter, disco balls, and colour! Luca and her friends were invited to embrace their inner superhero power for this fun, fresh and modern birthday party styled to perfection by Konfetti Love.

The dessert table, formed from tall pink buildings (plinths), was the centrepiece. It needed a strong backdrop so they opted for a textured and over the top colourful backdrop which made the display pop! Taking centre stage was a tall cake made up of small colourful buildings from Lunaberry. They also crafted the gorgeous lightning bolt biscuits and building biscuits which were displayed on acrylic stands.
A crowd favourite was the custom chocolate slabs from Jack Rabbit that matched the Meri Meri partyware to a 't'. Rock candy, doughnuts, and juice finished off the dessert table.
Every superhero needs to practice their superpowers, so a magician was on hand to provide some fantastic entertainment and each superhero received a custom pink cape and neon jumping rope as a party favour.
Pink smoke bombs completed the day and added some fun to the superhero photos. This colourful superhero party was the ultimate celebration for Luca's 8th Birthday!
Vendors
Creative concept and styling: Konfetti Love
Desserts: Lunaberry
Florist: Nouvelle Floral
Props: Konfetti Love Rentals
Chocolate: Jack Rabbit Chocolate
Photography: Andelle Schenach Photography
Partyware: Meri Meri Partyware
Check out a Boys Superhero Party here!