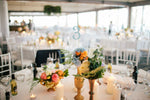 Say what you will about the concept of happily ever after, look at Ika's beaming smile and tell me it isn't real! Today we have the pleasure of sharing Matt and Ika's wedding, which was impeccably styled by Joni of
Chasing Arrows
for 250 guests! Creating an intimate atmosphere for such a large guests is no easy feat, but Joni achieved just that. You can read more about how she brought this beautiful celebration together below.
'Ika and Matt were the most gorgeous couple to work with! They were so easy going, fun and always happy and excited for their big day.
Having a huge amount of family and friends, a small intimate wedding was never going to be on the cards, so they went all out and had a wedding with 250 guests! Luckily the stunning venue The Deckhouse at Woolwich is large enough to cater for big events.
We opted for a lush, romantic look with lots of greenery, candles and flowers. They loved lots of colour but more on the softer side so we went with gorgeous pinks, peaches and light blue, then added pops of navy blue. We loved adding in greenery installations on the ceiling to help create a bit of a garden feel and make the huge room feel a bit more cozy and romantic. Other styling elements we used were a mix of gorgeous mismatched vintage brass vases and a huge amount of pillar candles.
We decided to make the bridal table the focal point by adding in the bold navy runner, adorned with a huge amount of flowers in brass pots, mismatched brass candlesticks with tall white taper candles then finished off the look with gorgeous mismatched gold tealight votives.
Their family and friends played a huge part in their wedding too, which made it all the more special. They had friends make their sweet table numbers, signage, bouquets and even had one of their friends make their cake!'
vendors
Wedding Stylist:
Chasing Arrows
Photographer:
Tricky Dan
Videographer:
Dreamcast Gallery
Venue:
Deck House
Reception florals:
Chasing Arrows
(Bouquets made by a friend) MUA:
Felicia Young
Brides Dress:
Abbey Bridal
Groom's suit:
Calibre