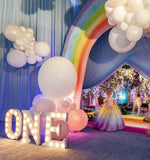 As far as lavish and amazing 1st birthdays go, you can't beat Kylie Jenner's #Stormiworld. It's got everything a little girl could want and more.
Balloons, rainbows, flowers and live performances - this theme park inspired party was admittedly OTT but there are some great details to inspire your next girl's birthday party.
We love the alphabet letter lights - that's a great decorating idea for any party.
The balloon wall was fun and bubbly with assorted colours and varied balloon sizes.
Candy colours are the name of the game and you can't go wrong with bright, fun colours - the picnic tables are perfect for a child's party.
Anyone with toddlers will know that a ball pit can provide hours of entertainment - we love the cloud theme.
Up, up and away - okay, so you're probably not going to have a hot air balloon prop at your next party but we do like the idea of a 'sky' theme.
Spectacular - this is too good to eat but I bet it tasted as amazing as it looks. This was the moving cake the party goers are raving about.
Chocolate box gifts are never out of fashion - say 'thank you' to your guests with some themed chocolates.
Baby Shark Time - nothing says 'one year old's party' like the Baby Shark song.
While not everyone is looking to throw a huge 1st birthday bash like Kylie Jenner's 'Stormiworld' - there are certainly some fun ideas that can provide some inspiration for your next birthday party.