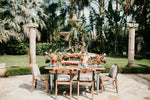 What a vibrant celebration! These Mamas have been spoilt rotten! Sweet treats, flowing drinks, and a gorgeous sit down meal! This luxe affair payed homage to all things Latin. Adequately designed with an abundance of bright florals and sophisticated colours, the Latin heritage shone through within the styling.
A well thought out design from the matching of the dessert colours, florals and food. All worked harmoniously together to create this beautiful event for these beautiful Mums! In particular, pops of coral and green, really stood out against the more laid back, muted colours. Whilst rustic furnishings created a subtle and organic backdrop, that ultimately aided in creating a higher contrast for these brighter colours to really jump out!
An abundance of desserts showcased a wide variety of treats for the Mamas to choose from! From cake, to mini desserts, to cookies! These Mums were spoilt for choice! These beautifully decorated desserts added character and elegance to the styling. From the subtle water colours on the cake, to the funky cute designs of the cookies! They both contributed to creating a really fun and sophisticated event.
The florals really added a breathtaking, show stopping feature to the overall styling! These amazing flowers were placed immaculately in all the right places! The placement of the flowers on the cake really added a three dimensional feel to the matching water colour flowers painted on the cake. Whilst the bright bouquets scattered around the design really tied in the colour palette from all aspects, creating an organic texture, whilst bringing in a feminine touch.
Design & Styling: One Social Design
Signage: Creative Amme
Photography: Nola Fontanez Photography
Floral Design: Innesa Nichols Design
Pops: Paleta Bar
Catering: La Hueseda Tacos
Kids Clothing: Joy Plus Love
Jewellery: Vyn Jewelry
Tshirt Design: One Social Design
Cake & Desserts: Sweet Crum Cakery