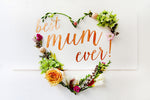 Mother
's
Day
is a big deal to me and since being a
Mother
to three cheeky monkeys myself, I take this
day
very, very seriously! To me,
Mother
's
Day
is dedicated to family and pampering. So I started thinking of what it is that I love most about
Mother
's
Day
, and what every
Mother
would love about
Mother
's
Day
, from the beginning of the
day
to the end. That's when the theme came in mind – "
Mother
's
Day
- Breakfast in Bed" it is a beautiful start and best thing to wake up to, seeing my kids and husband walking in with delicious food prepped and ready for me. With this theme, I then extended to the colour scheme. I have been a fan of copper and rose gold for a long time and a new lover of marble. Both very on-trend and look amazing together! Throw in some dusty, soft pinks and we were set!
With the concept of Breakfast in Bed, the food were to be set-up on a bar cart so the family can "wheel it in" into the bedroom, ready to serve to the very lucky Mummy. Lucky for me, Lisa of Pretty Pedestals had a gorgeous grey-coloured cart that was just perfect for the shoot. Using white, black and clear cake stands and some copper baskets, I also requested for some new marble platter pieces, all from Pretty Pedestals.
Besides the concept and colours, I also wanted a catchy title to this set-up and "Best Mum Ever" came to mind right away. Thanks to our friend Nate from Lynes & Co Handpainted signs, we had a "Best Mum Ever" copper-foiled signage to sit right on top on our breakfast cart. Every dessert on the table reflected on either the concept of breakfast and/or the colour theme, such as the croissant cookies being Mum's Morning Pastry, the Cookie Stacks being Mum's Pancakes, the Tiramisu being Mum's Coffee Hit, and so on.
The cake was the hero piece of the table and Felicity of
Sugar Bee Cakes
did an amazing job creating the two-tiered cake adorned with handmade rice paper flowers, with the request of most of them being white anemones. The bottom tier was a marble pattern and top tier a hand-painted mix metal colours of copper, gold and silver.
We had a removable little drink station sitting in front of the breakfast cart to showcase a copper coffee percolator and copper mug for Mum. We also had some amazing strawberries and cream marbled macarons by Macaron Delights that we displayed in a gorgeous pink diamond vintage compote, and also used these macarons upright as dessert tag holders for something different.
Some gorgeous marble balloons with copper, white, blush and black tassels by Athena of House of Party tied to the handle of the cart and beautiful floral arrangements in Rainy Sunday copper jars and K-Mart geo copper vase completed the whole look.
And what about the pressies, you ask? Why of course, Mum would open up her presents and wear a marble-granite patterned Talulah dress and a Samantha Wills copper Bardot ring for the special
day
(both from Carousel Bondi) and after a whole
day
of spoiling, she can wind down with more pampering with some amazing bath and shower essentials from
Lush Fresh Handmade Cosmetics
.
Yes, we did paint a miniature bathtub in copper to house these yummy Lush products!!
We wish all the beautiful
Mothers
a fabulous
Mothers
Day
this Sunday and every
day
. Because it is definitely a
Mother
's
Day
every
day
. Thanks Mum!!! Many thanks to Lisa of Pretty Pedestals for her support with this photoshoot, for the extra pair of eyes and hands and the delicious Tiramisu! And of course, many, many thanks to our AMAZING vendors for their time, talent, creativity and generosity in making this photoshoot a success: Concept, Styling, Paperie, Photography:
PAPERplayground
Floral Arrangement:
PAPERplayground
with flowers supplied by
Dots Flower Shoppe
Additional styling and photography:
Pretty Pedestals
Cake stands, Footed bowls, Marble platters, Copper pieces and Baskets and Bar Cart:
Pretty Pedestals
Tiramisu:
Pretty Pedestals
Cake, Cookie Stacks, Cookies:
Sugar Bee Cakes
Strawberries & Cream Marbled Macarons:
Macaron Delights
Best Mum Ever! hand-painted sign:
Lynes & Co Handpainted Signs
Balloons & balloon tassel tail:
House of Party
Marbled mani by
CutieCool Nails
Copper vase & vase stand and copper arrow:
Rainy Sunday
Talulah Dress & Samantha Wills Bardot Ring:
Carousel Bondi
Mother
's
Day
Gifts:
Lush-Fresh Handmade Cosmetics
Save
Save