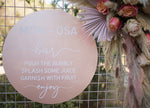 Sit back and relax with a Mom-osa! This Mother's Day Picnic is one done in style! Say cheers to motherhood and treat yourself with a sweet or two! Inspired by the early Christian festival known as "Mothering Sunday", Floweroyal Co. arranged this beautiful picnic in celebration of Motherhood.
Captured under the bright Athenian blue sky, this gorgeous picnic oozed sheer beauty and awe. Feminine blush pinks adorned the surrounding park land, and an abundance of florals dressed the party to perfection!
Pampas grass intertwined fresh blooms to create beautiful statement pieces, whilst the hues of pinks and orange balloons aided in tying together this sweet and sophisticated colour palette. Sickly sweet desserts garnished the beautifully styled dessert cart, creating a luxe, bohemian aura.
These gorgeous blooms continued throughout the design, adding a feminine touch to the table setting. They created a gorgeous statement centrepiece to the picnic! The addition of the beautiful Flower Bar allowed for these mums recreate their own beautiful bouquet!
We hope these mothers were able to pour the bubbly, splash some juice and garnish with fruit to enjoy their mon-osa's!
Decorations & Florals: Floweroyal Co.
Photography: Eclipse Weddings
Sweets & Refreshments: Flowerroyal Co.