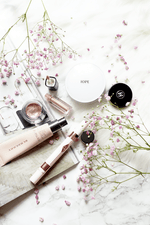 For the beauty bloggers and beauty lovers out there, we've gathered some beautiful product flat lays for your inspiration! From symmetrical to disarrayed arrangements, we have gathered the best of the best photographs for you to enjoy! With the use of flowers, magazines and handbag accessories, we'll show you how to take your flat lay to the next level.
ELEGANT BABY BREATHS
Add a feminine and organic touch to your product shot with some lovely baby breaths.
Image via:
Barely There Beauty
VIVID ACCENTS
To spice up a flat lay try some bright accents. It definitely adds a little more pop to your shot!
Image via:
Honey & Velvet
BAG OF ESSENTIALS
For those wanting to show off their must have hand bag items, this is a great creative way!
Image via:
Women's Stuff
LAVISH
A handbag that is spilled with luxury. Try ivory flowers as an elegant compliment to your lavish products.
via:
@mua_dasena1876
MONOCHROMATIC & BLUSH
An absolute classic arrangement of black and white products with pale pink accents.
Image via:
@phoebesoup
SPLASH OF FRAGRANCE
Add a splatter of colour for a more striking approach to photograph your most loved perfumes.
Image via:
MJBEAUTYCONCEPT
CRUSHED POWDERS
For more energy in your product shots add some crushed loose powders.
Image via:
Margoandme