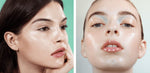 From glitter to mattes, and from metallics to shimmers, makeup lovers around the world have experimented with all kinds of textures. However, now, in 2017, a huge new trend has come about and it's gloss! We're talking glossy lids, glistening skin and lacquer lips! In today's post, we're going to show you how you can wear this new found trend!
GLASSY LIDS
Taken straight from the runways, glazed lids will make your eye makeup even more interesting!
Images (top left to bottom right) via:
@kwak_jy
,
Pinterest
,
bittybeautyblog
&
@jihyeparkhp
OVER THE TOP DEWY SKIN
Glowing, luminous skin has really come into demand as of late though, now we're taking it to the next level and we want a wet dewed complexion!
Images (top left to bottom right) via:
Sarah Silver
,
o-c-u-l-t-o
,
Elle
&
@koreanmodel
LUSTRE LIPS
Make your lips even more irresistibly plump and voluminous with some extra lustrous gloss!
Images (top left to bottom right) via:
Charlotte Tilbury
,
Pinterest
,
Pinterest
&
@bbmua_ara