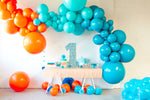 WHALE-COME TO ASHAR'S FIRST BIRTHDAY
Having a baby is so exciting! There are so many first times; the first roll, the first taste of food, the first little steps and most importantly a first birthday is such a monumental milestone. It's a sign that Mummy and Daddy have survived for one whole year scot free! We had the honour of celebrating little Ashar's First Birthday in a Little Sprout theme thanks to Lombard the Paper People.
The decorations on the big day were provided by the wonderful people of Lombard the Paper People, who put together the awesome colour block balloon installation, which definitely packed a punch! They also provided all the paper decorations - honeycomb balls, fans, streamers, acrylic cake stands, confetti and DIY fringing, the partyware and we also did another DIY on the big number "1" used as the dessert table backdrop with metallic blue confetti.
Ashar was spoiled by Freddy and Co. who also provided one of the best reversible playmats we have laid our eyes on (watch this space to know how you can win this playmat!) to play and get his cupcake eating skills on. Stuck on You was the gifts selected by his friends and family; some personalised building blocks, a personalised backpack, and a personalised toybox to keep all of his new toys in a neat and tidy order (It will keep Mum happy that's for sure!). Also provided for entertainment was Little Party Play who brought along their slide, ball pit, and rocking horse - as well as the mini table and benches for Ashar and his friends to party and eat merrily on.
Entertainment wasn't the only important factor, but also the desserts that went on that wondrous dessert table, Cakes by Sal wowed us once again with the selection of delicious treats she made, not one but two cakes, whale cookies, blue buttercream cupcakes, and jello baby friendly shots. To wash everything down, Munchkin provided all the cute sippy cups, plates and spoons to help little Ashar feed himself as he's pretty much an independent big boy now!
We hope you had an awesome day playing with us little man and we hope it hasn't been too over-whale-ming for you!
VENDORS
Balloons, Party Decor & Paper Partyware:
Lombard the Paper People
Personalised Gifts:
Stuck on You
Plastic Sippy Cups, plates, bowls & spoons:
Munchkin
Playmat:
Freddy and Co.
Desserts:
Cakes by Sal
Children's Furniture & Toy Hire:
Little Party Play