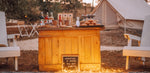 ADVENTURE IS WHERE THE WIFI IS WEAK
Often life in the city can get crazy - the fast-paced, noisy, hustle bustle lifestyle can tend to get us wrapped up in our mundane day to day routine that we just need to disconnect from. OIP teamed up with
Cosy Tents
to show you all how to make this getaway all too possible, even for that luxe midweek trip to get out of those pesky meetings we all dread.
We followed five friends (Models provided by
Bella Management
) to Daylesford and captured some great moments. When you have golf carts to pick you up from the car park and drop you right in front of your luxe tent, it's easy to fall in love with nature all over again!
To really honour their home away from home, the group set up a little piece of their own heaven. Set up in their little space was an oversized rug hand-picked for the set up by interior specialists from
Miss Amara
with its striking navy and burnt orange colours, it really popped out in nature. And what better way to relax on the rug than to have
Airsack's
to chill out on. These cool lounges are versatile, can be used inside and outside, so it only made sense for these guys to pack theirs for this little mid-week getaway.
Our friends are dressed to impress; the group were wearing some cool threads from
The People Vs.
, embroidered jumpers from
Sweater Club
and had the toastiest puffer jackets from
Toast Society
to buffer that chilly Melbourne wind. You know what they say: friends that dress the same, stay together! There is actual scientific (paparazzi) proof that friends who dress similar, stay BFFs forever. Even if it's not true, at least you're all coordinated and look super cute together!
But most importantly, it was not only the comfort of being in a luxe glamping setting but of course, the comfort food organised. The spread included
Hummingbird
which provided the overnight oats and baked oat cups filled with yoghurt and berries,
Barkers
who provided the jams and cordials, the cheese and fruit platters and of course the tasty s'mores packs from
Black Pantry
!
Glamping takes on a special meaning when the sunsets! Friends... a fire pit, ghost stories! and marshmallows (courtesy:
Black Pantry
) what else can you want?
All in all, Glamping is way more luxurious (and fun) nowadays than it was in the 90s - My!, we have come a long way.
VENDORS
Venue:
Cosy Tents
Models:
Jorden
,
Sam
,
Anthony
,
Phoebe
and
Lily
from
Bella Management
Rug:
Miss Amara
Air Lounges:
Airsack
Puffy Jackets:
Toast Society
Jumpers:
Sweater Club
T-shirts & Hoodies:
The People Vs.
Porridge & Oats:
Hummingbird
Jams & Cordials:
Barkers
S'mores:
Black Pantry