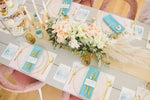 In more recent times the modern Mother can be defined in many ways: A stay at home mum, a working mum or even perform the role of bearing some relation to their children, who may or may not be their biological offspring. At OIP we are all mothers! We are career women working outside of the home and we are carers for our little ones inside the home. For our Mother's Day editorial this year we want to celebrate all aspects of motherhood so we invited 3 influential mummy bloggers and their gorgeous daughters to bask in the joys of motherhood; Sarah Jane Young, Lana Wilkinson and Nikki Pash.
All Mum's are worth celebrating! We began our editorial planning with a simple image of a sherbet inspired balloon garland. From this image the theme grew and grew and grew… and blossomed into 30 amazing vendors to help us bring this vision to life!
Hanging over our sherbet inspired table décor was an amazing balloon garland from boutique balloons. Georgia took no time at all install the garland; she matched the balloon colour perfectly!
We decided to shoot in the Garden Pavilion at Stables of Como. We loved using this space so much from our Fathers Day shoot last year that we wanted to do it all again. We couldn't help but get all girly with this cute and quaint setting in the stunning grounds at the Como House and Garden. The Garden Pavilion space is a blank canvas, we knew it was essential to have furniture that packed a girly punch.
We could not look past Harry The Hirer and their perfect selection of soft, comfortable, rustic and modular furniture. We loved the velvet pastel pink dining chairs, sparkly gold runner, amber hue tumblers and peacock blue napkins. We can't wait to use these guys again on our next editorial!
Stables of Como really put on a delicious spread of a Mother and Daughter high tea nibbles. The Mums and the kids all had their very own tied high tea cake stand full of sweet and savory treats. This included rosemary, brie & fig chutney finger sandwiches, Belgian chocolate & honeycomb meringue, and aggies lemonade scones with chantilly cream & bonne maman jam. That's just to name a few. Yum!
After we polished off the high tea we had a dessert buffet on top of that! We received a variety of treats from: Cakes, cupcakes & chocolate shards: High Tea Cakery, Donuts: Bride & Stork and Cookies: Miss High T. Cake toppers were from Communicake It. Everything complimented each other so well and was delicious.
Paula from the small things stayed with us the whole day and was so amazing. Unwrapping with care her props and décor items. Burnt Butter and Paula from the small things had the perfect items to compliment our table scape, gold candle holders, wire baskets, sherbet inspired cake stands, the list goes on.
Mums and daughter gift boxes were a must. We had such great sponsors contributing to the array of gifts that were inside. The Mums had stunning Diamond Necklaces from Aristides Fine Jewels that were customised to their first initial. A Home - The elements of Decorating Book from Emma Blomfield (Pre-sale sold out everywhere! We had to scour high and low to find three copies for these special ladies!), a $250 MOVEMAMÍ Voucher, 20 beautiful pink Roses in a customised giftbox from Kerr & Valencia, Magnesium Health Products from The Base Collective, monogrammed gold foil clutch purse & Keyring from The Daily Edited and the Kids all got little gifts from Invite Me Shop. They all came lovely wrapped in customised gift boxes & customised candles from Luna Naturel.
Let's not forget the amazing Mimosa Bar, set up by The Stables of COMO, especially for Mother's Day this weekend!
Thank you once again to our beautiful mum's and their gorgeous Mini Me's who helped us celebrate Mother's Day in absolute fashion!
Have a Wonderful Mother's Day this Sunday!
Love from the Oh It's Perfect Team xx
--
Please see below our Amazing Team & List of superstar vendors!
Venue: The Stables of COMO
Styling: Oh It's Perfect
Models: Lana Wilkinson, Ava, Elle, Sarah Jane Young, Mia Grace, Nikki Pash & Hazel
Make Up & Hair (Lana): Janice Wu
Make Up & Hair (Sarah): Zoe Karlis
Make Up (Nikki): Catriona Spiers
Hair (Nikki): Janice Wu
Wardrobe: The Style Theory
Photographer: Neiyo Photography
Furniture Hire: Harry The Hirer
Mother's Day High Tea Catering: The Stables of COMO
Customised Gift boxes & candles: Luna Naturel
Cakes, cupcakes & chocolate shards: High Tea Cakery
Donuts: Bride & Stork
Cookies: Miss High T
Cake toppers: Communicake It
Mimosa Bar: The Stables of COMO
Balloon Installation: Boutique Balloons Melbourne
Florals: Bespoke Botanics
Stationary: Alpine Events Co
Table Decor: The Small Things Co
Plates: My Wedding Decor
Cake Stands: The Small Things Co & Burnt Butter
Diamond Necklace: Aristides Fine Jewels
Home Book: Emma Blomfield
$250 Voucher: MOVEMAMÍ
Rose Box: Kerr & Valencia
Magnesium Health Products: The Base Collective
Clutch & Keyring: The Daily Edited
Kids gifts: Invite Me Shop
SaveSave