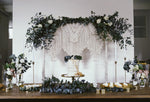 When we get a chance in the office to celebrate one of our own - we take the opportunity to celebrate in style! With the impending birth of Susie's second cherub, we had to take this chance to celebrate - Oh It's Perfect Style! With the help and generosity of some of our trusted suppliers - we managed to pull the day off without a hitch!
The event took place inside the Heritage listed "Ironing Room" at the Abbotsford Convent - a beautiful place to fit the gender neutral theme Bohemian theme that Susie wanted. We are greeted by this beautiful chalkboard that Susie dressed and drew herself. Followed by more and more awe of the beautiful furniture and decor supplied by Harry the Hirer & The Small Things Co.
Then once we turn the corner, we see the amazing dessert table, adorned with an incredible hand made Macrame installation provided by A Frayed Knot Macrame, with a floral installation that Susie envisioned and her team of trusted besties put together. The dessert station itself was an impressive array of a naked cake, cookies, cupcakes and donuts all in theme of neutrals, green foliage and lots of gold - all made by the amazing Andrea from A.T Bakes.
The guests were greeted upon arrival a glass of home made iced tea, or sparkling wine - as well as helping themselves to the cheese board and the fruit platters. They were also served delicious canapés from Bursaria. The guests were definitely happy munching away whilst playing silly baby shower games!
All in all, it was a successful day, mama bear enjoyed herself and was even graced with the presence of her little mini me who made a special appearance. Lots of happy guests who won cute little prizes after playing some fun lame baby shower games! We wish Susie a pain free (who are we kidding!?) labour of her second bub and a speedy recovery!
xx
Styling/Floral Arrangements: Oh It's Perfect Venue: Ironing Room, The Abbotsford Convent Catering: Bursaria Furniture Hire: Harry The Hirer Decor Hire: The Small Things Co. Macrame Installation: A Frayed Knot Macrame Desserts: A.T Bakes Hair & Make Up: Zoe Karlis Photography: Oh It's Perfect Florals: Clover Flower Co. Foliage: Helen Dillon Florist
Save
Save