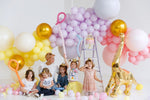 What a great, girly twist Epishevai has put on this Dinosaur themed party! The fun, pastel styling has really shone a glamorous light onto this wild party. The soft pink, pastel purple and light yellow all act in harmony with each other. Whilst gold accents were carried throughout, as seen in the Dino prints and giant Brachiosaurus.
Adding these soft colours aided in achieving the feminine styling of the party. Something that can be quite masculine has been made soft and girly. Through this, it makes party styling for what can be such a boyish theme an easy one to adapt and achieve for our female Dinosaur fans!
Playful and fun features like the giant Brachiosaurus from Matopaper, and dino-cake by Maria Ivanova Cake have added an adorable humour to the styling. The details down to a little pink dinosaur wearing a party hat and holding a balloon, have all aided in creating this make-believe oasis for this little three year old and her friends to wonder and stomp like Dinosaurs in.
We hope this Dino-mite party has you roaring with delight!
Gold Dinosaur: Matopaper
Cakes and Cookies: Maria Ivanova Cake, Demidoff Bakery, Cookie Room
Party Supplies: Meri Meri, SM Party, Baby Bottega
Location: Studio 212
Photography: Belonome
Styling/Decoration: Epishevai
Balloons: Epishevai