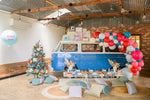 The Melbourne weather on Christmas Day can be very unpredictable. This year for our OIP Christmas styled shoot it had its own set of weather challenges, 4 seasons in one day!
Our initial concept had the set up situated on a sunny sandy beach, utilising the surroundings and styling an epic picnic scene with a Kombi as our backdrop. Unfortunately with rain and wind on the forecast we needed a plan B and decided to move the shoot in doors at the gorgeous Butterfly Red Hill. We opted to use one of their gallery spaces with rustic brick and tin walls. The grounds are absolutely stunning and we will definitely be back for another visit.
We kept with our initial Kombi concept, Josh from Righteous Campers drove his striking blue 1975 Kombi down to Red Hill for the shoot. We added a matching #balloongarland from The Party Place who also did the custom vinyl jumbo balloons and a mound of Chrissy gifts wrapped in the most amazing Hooray all Day wrapping paper. Make and Keep created the custom red acrylic signage for the Kombi, it was looking very festive and ready to go!
Luisa from Honour with Fete created the most mouth watering Christmas inspired picnic. A long grazing board surrounded by beautifully matched soft décor items and table pieces, she always nails the brief! To compliment the picnic set up we had Marita from Adelphi Mou create the cutest custom stationery. There were Christmas crackers, drink coasters and the sweetest Kombi favour boxes you ever did see. Peninsular Cookie House baked some tasty cookies to go on each of the place settings in our chosen pantone aqua blue.
We had 2 cakes for our picnic table – Cakes with Tina made a fruit topped wreath cake and we also had a single tier cake from Bakes by Kellie with a custom printed cake wrap from Zahari by Dina, complete with it's very own fairy lights.
It wouldn't be Christmas without a tree and this year we had decorated it with wooden hand painted iconic hangings from Outer Island. A necessity for any Aussie family tree! The Flower Press Co created a stunning floral garland for our tree with a mix of fresh and dried flowers; she also put together our table arrangements.
Leah and her 3 children were our models for the day. They came in the cutest matching outfits and were so much fun to work with! For gifting this year we had Circa Home candles and home fragrances. The star candle trio was a team favourite with it's delicious summery blood orange fragrance. Leah had her hair and makeup done by Make Up by Sophie Knox. We opted for a soft curl and bronzed finish for the perfect look for Christmas day. Leah modelled with Cool Clutch insulated bags, they are not only a great gift but an essential for a summer time accessory, stylish and practical !
Merry Christmas from the OIP team to you! We hope you get what you wished for.
Vendors:
Venue: Butterfly Red Hill
Kombi: Righteous Campers
Balloons: The Party Place
Picnic Set Up: Honour with Fete
Florist: The Flower Press Co
Stationery: Adelphi Mou
Signage: Make and Keep
Cookies: Peninsula Cookie House
Wreath Cake: Cakes with Tina
Single Tier Cake: Bakes By Kellie
Custom Cake Wrap: Zahari By Dina
Gift Wrap and Cards: Hooray All Day
Tree Decorations: Outer Island
Insulated Purses: Cool Clutch
Candles and Fragrance: Circa Home
Models: Leah Little Loves
Hair and Make Up: Make Up by Sophie Knox