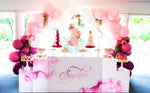 A few months ago Sarah approached Jess from Sass Events to style her daughters blessed day, she gave a brief description of what she wanted "pinks and plums with rose gold, flat floral centrepieces and something to keep her 60 kids entertained!
What a challenge that would be. Sass Events sure answered that brief with spectacular dessert table, balloon garland and a cute take home to keep the kids busy.
Sass Events had full free reign to create whatever they wanted. The guests showed up on the day and were completely blown away by the setup. No detail was left out from custom water coloured tables and plinths to personalised hand made colouring and activity books which were not only entertaining but also a great keepsake for the special day.
Styling and concept, plinths and cake stands:
@sassevents_au
Photogrpahy:
@zoomimages
Table
@sweetheavenlyevents
Custom books and artwork
@eveandcostationary
Decal and plinth wrapping
@jossignsbydesign
Balloons
@quirkyballoons
Flowers
@divinedesignsbydanna
Cake
@holysuga
Dessert cups
@cupfulcreations
Towers
@domsstrawberrydelight
Mini bundt, mini tarts,couture cupcakes and donuts
@sweetfingercakes
Venue
@oatlandshouse
Kids tables and chairs
@sweetheavenlyevents