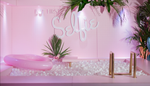 What better way to celebrate a Bat Mitzvah than with decked out pink and tropical celebration!! For this girl it is definitely the 'sweet life' - just LOOK AT THAT DESSERT TABLE! At OIP we are dessert connoisseurs, and this spread gives us our 100% approval! The beautiful monochromatic colour scheme has tied in beautifully with the flower arrangements. The subtly of using one light colour has created an effortless result. The colours brought in by the flowers, balloons and streamers not only make the design cohesive, but it also doesn't take away form the simple colour palette used!
This design has Pinterest vibes all over it, and a party is truely complete when you're able to take a bomb selfie from any corner! We can't forget to mention the PINK ball pit! An awesome nod to Sugar Republic's ball pit, this epic installation will have all guests in awe no matter what the age! Decorated to perfection, and not over done in any way, shape or form, this party has us with our mouths on the floor!
The use of palm leaves and the floral arrangements aid in creating this tropical vibe, whilst the mocktails reminisce us to a warm holiday away. The drapery of the balloon and streamer installation is a beautiful addition to the design, and aids in giving a real party atmosphere!
We hope you enjoy this tropical, pretty in pink Bat Mitzvah!! The hearts at OIP have melted from this one!
Design & Styling: Jordan Kusi
Photography: Helen Warner Photography
Flowers: All For Love London
Balloons: Bubblegum Balloons