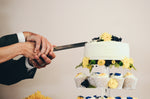 Choosing a wedding cake comes down to style, budget, your guest list, and most importantly, your tastebuds. Think layer upon layer of cream cheese icing, rich cake and, ummm, more icing. For some, weddings are all about the dress, but for the sweet tooth, they're all about the cake. So, let's take a look at our list of 10 amazing wedding cakes for every style!
The Romantic Cake
The romantic cake will, just like the bride, take your breath away. It's whimsical and classical with the perfect amount of romance to make you weak at the knees.
The Rustic Cake
This is the cake for your classic barn, country or farm house wedding. It's soft and romantic but without the fuss of a traditional style cake. It captures the laid-back vibes!
The Naked Cake
No need to OD on icing - the Naked cake gives you everything you want and need without dressing it up. It's relaxed but that doesn't mean it's not sophisticated!
The Traditional Three-Tier
You'll see this cake at the most traditional weddings. And why not? If it works, why change it. It can discretely slide in amongst the traditional wedding decor or shine with a few stand out features.
Cheese! Yes, Cheese!
No sweet tooth here. But if you love cheese, this is the cake for you! Layer it, stack it, carve it - the cheese cake is the savoury tooth's best friend!
The Simply Elegant Cake
A one tier, no fuss cake. But what lacks in height it makes up for in its elegance. It uses flowers, icing, and ribbons, to make it 'pop' and reflect your wedding style.
The Modern cake
This is a popular style because it can be decorated to suit almost any style and colour scheme. It's slick, classy and stylish - with that modern day touch.
The OTT Cake
Make it big! Make it spectacular! The Over The Top cake is a cake built to stand out. And when you see it, you'll think you're dreaming. Forget the bride and groom, the cake is the show stopper!
The themed Cake
If you have a themed wedding, a themed cake is a must! It reflects the wedding theme and makes a statement that the happy couple with never forget.
The Piece of Art Cake
You could place this cake in an art gallery and people would believe its real art. The piece of art cake is so perfectly decorated, you'll dread cutting it!!
Now all you need to do is choose the perfect cake for your wedding style!