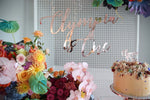 A bright and vibrantly colourful birthday party for little Olympia's first birthday! This bold party is a celebration of colour, full of whimsy and has a tropical touch through the use of vivid floral arrangements.
Peaches, pinks, mustard and a touch of turquoise and red were the colours used to achieve this beautiful party. Although bold colours were used, the floral arrangements added a feline touch for this little girl's celebration. Whilst the incorporation of softer, more vintage tableware muted down the loud colouring, that ultimately contrasted in harmony.
Structure was created through the metal, mesh backdrop, this allowed for a modern touch to be added and also aided the composition of the backdrop. As the mix with flowers empowered the set up to flow and be balanced. Whilst adding the chromatic rose gold finishes added another dimension to the styling, adding a subtle contrast to the white backdrop.
The organic styling of this party was a fun and enchanting way to celebrate Olympia's first birthday! We hope this one inspires you to add more colour into your life!
Tableware, Napery & Cake Stand: Take Me Hire
Flowers: Red Amaryllis
Vases: Florals and Props By Charlene
Props: The Treasure Room
Balloons: Party Splendour
Photography: Justine Perl Photography