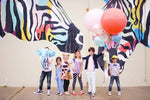 This colourful, wild party has been created for this lucky girl's seventh birthday! A modern day safari that has been built on colour blocking and stripes! A vibrant party for a very zany girl! Guests dressed to impress - matching the bright, electrifying colouring of the colour palette!
A mix of pastels and bright colours embellished this party, colour blocking created this very wild outcome! The placement of colours and combination of bold patterns have created a pop-art effect, the overall contemporary styling truely has worked in their favour through this!
Even the desserts were fun! Brightly coloured and sprinkles galore! These delectable sweets are almost too enchanting to eat! Not to forget to mention the adorable giraffe on the birthday cake! The soft colouring against the 'Wild At Heart' acrylic created a modern contrast - very fitting with the overall feel!
A contemporary, bright and wild safari for sure! We hope this party leaves you roaring for more! It sure has for the OIP team!
Styling, Props & Stationary: Deam a Little Dream Events
Photography: Love Her Photography
Partyware & Balloons: Ruby Rabbit Party
Cake & Desserts: My Petite Sweets
Cake Topper: Communicake It
Custom Animal Cookies: Frosted By Nicci
Mini Piñatas: Party Pony Pinata
Custom Napery: Her Beautiful Mess Creative
Blush Eames Chairs: Event Artillery
Zebra Mural & Wall Art: Anya Brock
Venue: The Local Hotel