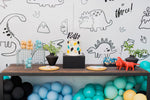 Little boys and dinosaurs are always a good combo and little Reilly's 3rd birthday was no exception This birthday and all the detail is a perfect example of how incorporating stationery could make it a roaring success!
Marissa from Konfetti Love wanted to give the theme a modern yet simplistic look, so she started with a playful yet bold black and white illustrations that she used throughout the event. For contrast she added a fresh color palette of varying shades of aquas and greens, a hint of mustard and deep tangerine orange.
Marissa wanted the illustrations to take centre stage, so instead of incorporating loads of dinosaurs, the rest of the decor was kept fairly minimal with a simplistic food table, pops of colour and most of the emphases placed on the custom backdrop where all the striking illustrations were on full display. For contrast she used the balloon garland in varying shades if aqua greens and blues below the table. A few of our dinosaur friends had to get a little, colorful makeover to fit the party and these were all done in a striking deep tangerine orange! One of her favourite pieces of decor had to be the large aqua, white and tangerine Triceratops dinosaur! What a lucky find.
For the food, she placed emphases on the playful nature of the illustrations and colours and these were replicated on the biscuits (by Lunaberry) and hand painted chocolate eggs (by Jack Rabbit Chocolate Studio) - filled with dinosaur jellies too!
She also ensured that the little ones were entertained with a bunch of activities - custom plush dino tails (perfectly colour coordinating off course by Mauss Designs), a colouring in page and "watch a dino egg grow". With all that open space, who wouldn't want a scavenger hunt in those sunfilled fields - she even had a dinosaur scavenger hunt, each customized with their names. Her favourite bit was the excavation kits that she made for these little ones!
Concept & Planning : Konfetti Love
Photography : Leandrie du Plessis Photography
Venue: The Forum, White Light
Cake & Biscuits : Lunaberry
Chocolate Eggs : Jack Rabbit Chocolate Studio
Macaroons : Nicoles Macaroons
Plush Tails : Mauss Designs
Decor Rentals : Konfetti Love Rentals
Stationery Design : IamLezanne