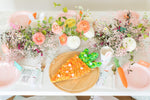 With social distancing many Easter celebrations will have be canceled however some traditions like bringing magic to your home can still exist. People may not be doing huge family brunch's or Easter egg hunts with neighbors but most will still be hopping around indoors with their little tribes.
Knowing that they would be staying put during the holiday Roxanne from Roxanne McClure Photography decided to look around the house to see what she could find to create some bunny fun! Being that she is an event planner, she had a few more things than others laying around in her draws!
However now is the time that we can support small business and lots of them deliver like Oh Happy Day, Daydream Society, Merry Merry, Bonjour Fete and Ellie and Piper Co. So in a few clicks you could get an awesome table scape too.
Roxanne went with organic natural pastel items that had little pops of orange. Because who doesn't love hopping around with bunny party crackers and a carrot cookie cake that would make any kiddo drool?! The balloon garland created by Moon and Blooms was re-purposed from a previous party they had weeks ago as were the flowers from Graceful Garden Co. The balloons were still going strong so Roxanne molded them into a heart.
Everyone could all use a little more love these days so the shape to her was a no brainer.
Balloons: Moon and Blooms
Florals: Graceful Garland Co