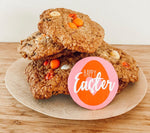 Wanting to create something special just in time for Easter for a friend or neighbor? This is such a great easy activity to create with the kids. The ingredients are all things you would normally find in the pantry and are inexpensive to purchase. The jar ingredients are: 2 cups all-purpose flour, 3/4 teaspoon baking soda, 1/4 teaspoon salt, 1/4 cup sugar, 1 cup chocolate chips, 1/2 brown sugar and M & M Speckled Eggs.
Purchase a glass jar and matching ribbons. We got ours from Spotlight, it was a 750ml glass jar with clip lid. This was the perfect size to hold all the ingredients nicely. Try and choose a jar with a wide opening as it will be much easier to pour the cookie mixture inside. We swapped out the flour for a gluten free option which worked well too.
Wash and dry the jar thoroughly. Pour all ingredients inside the jar creating a layered effect. We started with the flour first, baking soda, salt, choc chips, sugars and then the speckled eggs.
Close the lid. Tie on your ribbons.
We have created a free printable for the tag and label for you to use at home.
Print, cut and attach your tag and label.
Give the completed jar as a gift or you can use the recipe and bake the cookies yourself.