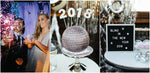 10, 9, 8, 7, 6, 5, 4, 3, 2….
The countdown is upon us; 2017 is drawing to a close. Did you smash your New Year's Resolutions? Have you eyed off your New Year's Kiss?
Whether you aced the year, failed miserably, or sit somewhere between the two, New Year's Eve is the one celebration that allows you to let go of everything that happened in the year, clink cheers to new beginnings and turn a new leaf.
CREATIVE CONCEPT
Since we wanted such a glamorous look, we opted for a silver and soft purple palette, which was simply heavenly! The Grand Ball (The Coppersmith Hotel), was a perfect fit for this modern spin on the theme, boasting city line views.
The fabulous streamer backdrop from Oh My Booth was a perfect fit for our palette, and tied together wonderfully with the balloons from The HeyDay Club. The signage by The Make Lab was the icing on the cake to this sophisticated setup.


DESSERTS
Speaking of cake, Cinderella may have had her eyes glued to her man candy, but we can't look away from these divine desserts!
The epic purple cake, cake pops and 'macrownies' (yes that's right- the lovechild of macarons and brownies!) was done with the help of Bread and Buttercream, which accompanied the disco ball cake, cookies and mini doughnuts from Call Me Ginger.
The soft and shimmery colour scheme matched the dazzling drinks bar, decked out with pretty drinks by Schweppes. And yes, that is glitter ice (we have a problem, we admit it!).
CINDER-LARA
Substituting the outdated glass slipper for a glamorous gown by Cassandra Renée, this show-stopping number fit our Cinderella (Lara) like a glove.
Embellishing herself with a flashy bracelet and earrings from Steven Khalil, a headband from JY Jewels, and a splash of OPI nail polish, Cinderella was ready to win over her Prince Charming (Sam), who was looking pretty sharp himself in his outfit from Rodd and Gunn.
Cinderella knew she needed to pull out all the stops to catch the attention of her dreamboat, so she sought help from Schwarzkopf Professional and Helen from Heading Out Hair and Beauty on hair, and Inglot Cosmetics and Dana Makeup Artistry on makeup.

However, the big countdown to midnight is not unique to New Year's Eve- many classic fairytales centre around this tick-tock to midnight, none more so than the tale of Cinderella.
Like us, Cinderella is dying to let her hair down, get her glam on and find her midnight smooch. But the problem is that her lame bosses won't give her the night off work. Trapped in her icky work gear, all she wants to do is break free and make her entrance into Grand Ball.
But as luck would have it, those countless nights covering shifts for her colleagues would finally work in her favour. Her workmate, transforming into her very own Fairy Godmother, repaid her debt by covering her New Year's Eve shift. Will Cinderella win over the heart of her Prince Charming?
VENDORS:
Venue: Coppersmith Hotel
Letterboard: Twelfth Letter L
Balloons: The HeyDay Club
Photo booth + backdrop: Oh My Booth
Drink stirrers, signage + invites: The Make Lab
Gown: Cassandra Renee
Suit, shoes + tie: Rodd and Gunn
Makeup: Inglot Cosmetics
Makeup artist: Dana Makeup Artistry
Hair: Schwarzkopf Professional
Hair Stylist: Helen from Heading Out Hair Salon
Nail Polish: OPI Australia
Earrings and Bracelet: Steven Khalil
Headband: JY Jewels
Drinks: Schweppes Australia
Cake, cake pops, 'macrownies': Bread and Buttercream
Disco cake, cookies, donuts: Call Me Ginger
Cake Topper, Cake stands, Party Poppers: Burnt Butter
Custom Acrylic Products: The Make Lab
MODELS:
Save
Save