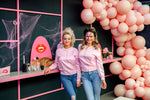 Halloween is creeping up on us again this year and it wouldn't be a tradition if we didn't create a styled shoot to celebrate its arrival. Although Halloween has stemmed primarily from a long established US tradition it's becoming more and more popular with Australian families.
This year we have planned and created a Booty-Queen theme featuring The Pink Ladies, Samantha and Merrin, a clique of spooky glammed up girls! We had 2 characters that we wanted them to play, Samantha was our Heartbreaker and Merrin was Cute But Psycho! Hair and makeup did such a stella job in bringing these characters to life. Amanda from Amanda Lee Make up created a blinged festival gem look on Samantha and a custom pink glitter zipper for Merrin. Kieran from Heading out Hair added to the girls looks by creating a braided Mohawk and 1960's inspired vintage victory rolls. We dressed our creepy characters in custom Pink Ladies bomber jackets from KKP Creations and cute pink accessories from Oh Hey Store. They were ready to rock!




We had our shoot at Rock Sugar, a modern Thai restaurant. We fell in love with its interior, they had the classic OIP pink, black decor, an array of neon signage and quirky cocktails. To style the space we had Basma from Magic Wand Parties create an epic all pink floor to ceiling balloon install. Custom vinyl signage from KKP Creations and an abundance of Halloween themed candles and décor from Dusk. Our favorite pieces were their large sugar skull candles, bleeding pillar candles and the crystal cubism tea light candle holders, a must have to decorate your home for Halloween.




It wouldn't be Halloween without some goulish treats! The girls got stuck into some custom made sweets from The Red Balloon Candy Artesian's. They hand made some amazing candy's including skull pops, oversized text lolly pops, monster skulls, vampire lip pops, printa pops, and yummy musk pebbles. Sweet Eve baked and decorated some sugary pastel skull cookies and Madie from Mad About Cakes created the most delicious but frightening custom tall cake, complete with mini skulls and splatter ganache. To finish off the decor was Laser Design Company acrylic cake toppers that suited our Booty-Queen theme perfectly.
We hope you guys are getting ready for the 31st and feeling inspired with our Halloween styled shoot, it's the fairest of them all!!!
Venue: Sugar Rock
Balloons: Magic Wand Parties
Cake: Mad About Cakes
Cookies: Sweet Eve
Candy: The Red Balloon Candy Artisans
Jackets & Custom Vinyl: KKP Creations
Accessories: Oh Hey Store
Candles: Dusk
Cake Toppers: Laser Design Company
Make up: Amanda Lee Make Up
Hair: Heading Out Hair
Check out our past Halloween shoots here;
Holographic Pastel Halloween Shoot