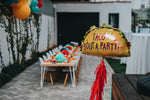 Sabrina from Golden Arrow Events and Design was so excited when her client asked them to design her son's third birthday, based on the book "Dragons Love Tacos." This book is a super cute story, but the illustration speak to her design eye! Modern patterns, simplicity and primary color palette; was a win! First step of this design process was finding a fun and colorful color palette, that would make for cheerful statement. This color scheme would bring the pages of the story to life throughout this beautiful backyard. For the kid's tablescape they selected Meri Meri's hexagon mint and red plates and matching cups. Creative Amme's laser cut stir-sticks always complete the look and add a personalized detail. To channel the adorable dragon characters from the book, they used a ridged napkin. Also did a little DIY detail to the forks by adding ridges. The fun mini taco piñatas were the perfect addition to bring everything to together. Down the center of the table she placed honeycombs, these definitely provide a fiesta vibe and pop of color. Behind the kid's table they created a lavish balloon garland, to highlight this adorable area.
The dessert area was the focal point of the party and needed to make a statement. Using Archive Rentals chevron wall and yellow dresser created that grand moment they needed. The red laser cut wording with the fun ridge detail was a great way to tie in the theme. To highlight this area we created a playful balloon garland with a fringe installation. Sugar Crush Sweets desserts were the cherry on top for this area. The attention to detail brought the pages of this book to life through her incredibly adorable desserts.
The most important thing to Sabrina's client was that they wanted the adults to equally enjoy themselves as the kiddos. So cocktails were in order! Their friend's at Punch Catering created craft cocktails to fit the occasion "Nacho Average Mule" and "Spec-Taco-Cular Paloma." Their service and setup was 5 stars! A Dragons Love Tacos party wouldn't be complete without a taco bar. The ambiance was created by a fantastic mariachi duo from Mariachi Romanza.
The kiddos all had a blast building a stuffed dragon from Little Artist Party and getting air brush tattoo of the books famous characters from We Adorn You.
This birthday bash definitely was "Nacho Average" birthday celebration!
Design & Balloons: Golden Arrow Events and Design @goldenarroweventsanddesign
Rentals: Archive Rentals @archiverentals
Cake & Desserts: Sugar Crush Sweets @sugarcrushsweets
Craft Cocktails & Bar Service: Punch Catering LA @punchcateringla
Laser Cut Goods: Creative Amme @creativeamme
Kid Craft: Little Artist Party @little_artist_party
Face Painting: We Adore You LA @weadornyoula
Party Goods: Meri Meri Party @merimeriparty
Photography: Nate Dumlao @nate_dumlao