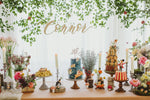 It's Connor's First Birthday! What better way to celebrate than with this fun fuelled party that allows for the imagination to run wild! This whimsical party has been influenced by the "Dream Animals" children's book, and it has truely been brought it to life!
The desserts table has been beautifully garnished with treats by Marien Carolyn, for a feast that never ends! Whilst gorgeous print outs from the classic children's book dance around as finishing touches to the decorations of the party. Toadstools, moss and tree stumps add to the whimsey and magic of this mythical display.
The organic nature of the styling curtesy of Paartee, has been achieved through the abundance of natural textures that weave and overlap each other. The woodgrain against the softer textures really amplifies the playful, youthful side to the styling.
Connor's family celebrated his first birthday as part of the Korean tradition called 'Dol' or 'Doljanchi', a special tradition where families celebrate the first birthday of their baby boy or girl. The family dressed traditionally in Hanbok, a semi-formal attire made by The Hanbok. The celebration took modern day take on this tradition, and we wish for a successful future for little Connor!
We hope Connor's celebrations went magnificently, and that Connor is able to find the very moon and stars are waiting just for him.
Event Planning & Styling: Paartee
Photography: Story By Mia
Cake & Desserts: Bakes By Marie
Name Sign: Letters To U
Hanbok (Korean Traditional Clothing: The Hanbok