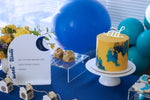 Celebrating Eid this year will be an experience like never before. An important and special time for Muslims worldwide, the end of Ramadan (a month long of fasting and abstinence) will be commemorated under lock down this year.

The true joy of Eid is experienced with the community coming together and connecting over prayers, feasts and gatherings. With everyone celebrating in isolation this year, Hira from Bespoke Events still wants to make this day festive and exciting for loved ones at home, and that's what inspired this styled Eid shoot.

There's no celebration without desserts, so the focus had to be a dessert bar. While it's the perfect excuse to order and enjoy some cake, traditional desserts always make their way into the dessert menu. Having Eid breakfast/brunch at home can be made more exciting with a simple yet elegant tablescape. The addition of florals and acrylic elements to the decor can elevate the styling to the next level.

The choice of this vibrant color palette was inspired by Moroccan architecture and its mosaic patterns - bright and vivid hues represent the joy and happiness of Eid while the cooler tones represent the peace and calmness of the long nights spent in worship this past month.
Design, Styling, Balloons, Desserts & Bar Sign: Bespoke Events by Hira Niaz @bespokebyhira
Photography: Zaid Haque @zaidhaque
Cake: Fariha Sweet Ombre @sweetombre
Florals: New Leaf Floral Design
Masjid String Lights: With a Spin
Gold Eid Tag: Amasi Decor
Acrylic Eid Sign: Inspired Engravings @inspiredengravings