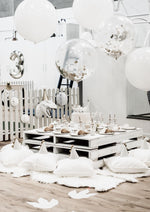 Angela has put together this spectacular and adventurous dinosaur themed party for little Louis' 3rd birthday. Ten little friends were invited to experience the fun fuelled party that was beyond imagination! Custom made dino-details included the Dinosaur Skeleton Dig, Feed T-Rex Ball Toss, a make your own Peg-Setgosaurus, and Dino tails to do the Dino-stomp dance! Tails were swished, feet were stomped and roaring to your hearts content was encouraged!
The crisp, white colour palette gave the event a very sophisticated feel, whilst the hues of gold added as an accent colour that sure made the finer details of this design pop! The array of textures allowed for the white colouring to add dimension to the set up, and also added a sense of playfulness. Whilst the dino-decorations really brought the whole theme together.
Designing a similar party can be easily achieved through the use of monochromatic colours. Mimicking this can aid in producing a clean design, and can be applied to any sort of theme. Adding an abundance of texture in the same hues of colour can really help bring any creation together. The simplicity of the design is where Angela has truely outdone herself, this polished outcome could make any dino dance and roar for joy!
Angela's tip for throwing any party is to not only WOW your guests with a spectacular set up, but also ensure you keep the little ones entertained with activities! After all it is not only about the balloon blowing and cake eating, but also providing a unique and fun experience that will long be remembered after the candles are blown out!
Party Styling & DIY -
Honeypunch
Invitations & Party Favour Swing Tags -
Emma Smith Stationary
Plates, Balloons, Straws & Napkins -
Parties Made Pretty
Birthday Cake -
From The Wild
Playdough Party Favours -
Dough My Dear Play Dough
Desserts -
Holy Cannoli Adelaide
Venue -
Kid and Hub
ROAR Lettering -
Shartruese
Cushions -
Modern Party
Dinosaur Faux Head -
White Faux Taxidermy
Dinosaur Tails -
Schooza
Tattoos -
Clever Seagull Co