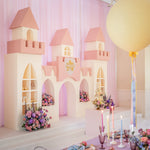 Naomi from Naomi Stephan Weddings and Events has created this beautiful regal themed 1st birthday for little princess Alannah. Being given full creative freedom from Alannah's mother, Naomi was able to create a beautifully unique pastel twist to this party, that was made for a fairytale. A custom made four meter castle was at the centre of this whimsical design, and truely aids in it coming to life. Naomi's palette of pretty pastels helped create an clean and elegant feeling, whilst the white flooring allowed the pastel colours to pop.
The tables were garnished with a beautiful array of flowers that helped tie together this party fit for a princess. Whilst the sheer height of the castle and the magnificent size of the balloons, really drew the eye up to truely appreciate the design as a whole.
The little princess's guests were given their own table at the centre of it all, to enjoy a wonderful performance of the ballerina's from Pistachio Entertainment. Crowns were given out as party favours for the little ones to truly immerse themselves in the whimsical atmosphere.
Desserts were spectacular as they flourished with an abundance of flowers and were decorated majestically. The placement of them within the castle assisted in making a truely grand display.
A fantastic spectacle overall, Alannah was truely treated like a princess for her 1st birthday!
Design/Florals/Styling: Naomie Stephan Weddings and Events
Cake/Desserts: Sweet Bloom Cakes
Balloons: Quirky Balloons
Props: The Treasure Room
Table Decor/Chairs: Sweet Heavenly Events Hire
Linen/Goblets: Drapes and Dreams
Catering: Hayat and Fay
Kids Papery: Paper Playground
Acrylic Crest: Letters By Lou Lou
Candles: Raw Light Candles
Entertainment: Pistachio Entertainment
Photography: Symbolique Photography