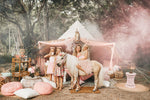 What an enchanting party! Glamacamp has created this beautiful and whimsical glamping styled party for these girls to enjoy. The set up allowed for the girl's imaginations to run wild, Cherry the unicorn became the star of the show, oozing whimsy and a sense of magic.
Adorned with freshly cut flowers by Rambline Rose Cooray, Cherry looked absolutely delightful. An instant crowd pleaser, she became the centre piece to the success of this set up. The girls felt like they were in a dream, it is here where their imaginations could run wild!
Peachy pinks and cotton candy details adorned the set up, whilst highlights of brass and gold made the styling feel more grand and luxe. The mix of textures, and vintage details such as the Fine China and a Turkish rug aided in creating this little oasis, that seemed exclusively crafted solely for the girl's enjoyment.
Finer details aided in creating the boho luxe feel for this party, the mix of materials and fairy-like outfits ensured the set up remained light and airy . Whilst unicorn ears completed the girl's look.
These girls appeared to have the time of their lives in this little enchanted wonderland. We hope this brings just as much whimsy into your lives as it has for these girls!
Photography: The Frame
Unicorn: Your Mane Event
Styling & Picnic Set Up: Glamacamp
Cake, Cookies and Donuts: Sweet P Cakes and Cookies
Flowers: Rambline Rose Cooroy
Grazing Tower: Journey Street Food
Stationary: Glamacamp
Tent: Glamacamp