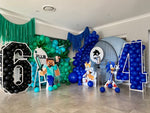 Every little boys dream! A combined birthday party for a 6 year old who is into Minecraft and a 4 year old Sonic the Hedgehog fan. Each boy got to choose their own party theme. The party may have been small (within Covid 19 regulations) but the decorations were not! The boys had the best time celebrating with their nearest and dearest!
The challenge was to combine the 2 themes. Colour was used to blend both themes together and lots of balloons. The team from Confetti Party Hire put a contemporary spin on both themes. The setup featured elements including statement balloon filled jumbo numbers, epic balloon wall, velvet wall, black mesh and streamers.
Both boys had amazing cakes from Scarlet Jade Austin that were interactive as they rotated! By rotating the cakes the boys could interchange their favourite Minecraft and Sonic characters. The end result was a hit with the birthday boys!
Styling, concept, balloons, props, streamers, decal organisation & application all by us @confettipartyhire
Cakes @scarletjadeaustin
Decals @getglittered