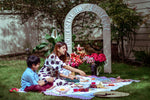 It all began with the hat! Mehreen from Pump up Party had a family vacation planned for Mother's Day in May that she wanted to take her Jacquemus Le Santon hat to. She bought it 3 years ago, but she had not been able to wear it yet. Then came COVID and all travel plans were cancelled.
So for Mother's Day her children and husband decided to "take her out" for the day, with all her favorite things, to a fun picnic in the backyard. The sunny weather gave her a reason to take out her hat. They decorated the backyard with a balloon install and set up all the flowers with a pretty backdrop that set the mood right. The perfume 'bloom' made the perfect gift to go with it.
Mothers Day can still be celebrated and made special without any fancy destinations. And while everyday should be full of love and appreciation for mothers, on this day Mehreen deserved to be in the limelight.
Event Styling, balloons, florals, signage & photography: Pump up Party @pumpupparty