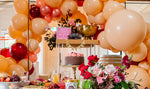 It's a girl's night! What better way is there to celebrate your girlfriend's birthday with a movie night in! This styled shoot was created with some fun and pretty colours that really added a luxe effect to the overall vibe of the night. Bevis were flowing, movie night nibbles were abundant and Halo Top ice cream was the perfect way to please a sweet tooth! We hope this shoot gives you a big enough craving to grab your gals (or pals) together to have just as grouse of a night as we did!
The Inspiration
The Warehouse Geelong provided the most perfect location for our celebration, it supplied an inviting backdrop that we were really able to put an OIP touch to. The gorgeous balloon garland from Blow Out Balloons aided in tying the fun atmosphere altogether. The bright and playful colour palette really enhanced the joyful ambience of the evening.
The lavish grazing table courtesy of Honour with Fete provided a centre piece for the evening, where the girls could really kick back and enjoy the delicious snacks in this adorable picnic set up. Both savoury and sweet, the platter really provided something for everyone's taste! Vivid hues of the spread beautifully contrasted with the picnic table.
Meet the Girls
We can't have a Girls Night In without some gal pals! Kirsty, Julia and Samantha all were ready and super keen to celebrate with each other! Nothing beats having a night of scrumptious food, delightful beverages and the wonderful company of friends!
Blush Bar did a magnificent job at pampering the girls with getting their hair and make up done for the movie night in.
The Finer Details
The striking flowers were supplied by Peony & Weasel Flower Co. They added an abundance of colour and softened the overall surroundings. Peppa + Peach provided the drink cart, hairpin tables and copper arch that we were able to use to drape our beautiful balloon garland over. The rug which the girls lazed around on whilst watching the movies was by Yard Family. This gorgeous pattern really popped among the coloured surroundings, adding a beautiful soft texture that contrasted against the hard surfaces.
Shh! The movie is about to begin!
The inflatable screen from Inflatable Films was an absolute necessity for this glorious movie night! Not only did it provide a big enough screen for all to enjoy, but they also provided the tasty pop corn! A movie night cannot be complete with some traditional freshly popped pop corn!
A delicious dessert to end the night on, Halo Top Ice-cream provided the girls with an abundance of flavours to choose from! Who could resist flavours such as choc chip cookie dough, cookies and cream, birthday cake or peanut butter cup?!
We hope this inspires you to create your own movie night in!
Models: Kirsty, Julia Feros, Samantha Krajina
Venue: The Warehouse Geelong
Furniture: Peppa + Peach
Inflatable Screen: Inflatable Films
Grazing: Honour With Fete Pop Up Picnics
Ice Cream: Halo Top
Flowers: Peony & Weasel Flower Co
Blanket: Yard Family
Hair and Make Up: Blush Bar
Balloons: Blow Out Balloons