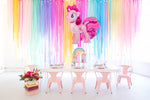 So who loves a good rainbow party? at OIP we do! This modern take on My Little Pony comes to us from Royale of But First, Party!.
First of all, the Pinky Pie mylar balloon! Makes one easy peasy, perfectly cute table backdrop if we do say so ourselves.
Next up, a rainbow pastel cake worthy of our beloved character. Sugar Crush Sweets made it all happen!
And can we just say how super cool it is to see one of the most classic of party decor pieces, crepe paper streamers, used in such an insanely fun way?!
Photography: @billyedonyaphotography
http://www.billyedonya.com/
Design/planning: Royale Ziegler of @butfirstparty
http://butfirstparty.com/
Fringe installation and balloon: @bonjourfete
https://www.bonjourfete.com/
Partyware: @daydreamsociety
https://daydreamsociety.com/
Party backdrop: @blacktwine
http://www.blacktwine.co/
Cake: @sugarcrushsweets
https://www.sugarcrushs.com/
Cookies: @sweetnsaucyshop
http://sweetandsaucyshop.com/
Cookies: @xobakes
https://www.xobakes.com/
Flowers: @gratitudecollab
https://www.gratitudecollaborative.com/
Children's table: @rachel_metz
https://www.youtube.com/channel/UCce7vvR81qpuXqFfICoKw1g (Rachel Metz)
Children's chairs: @teakandlace
https://www.teakandlace.com/