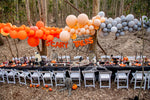 This year we decided to go spine-chilling with a twist of Oh It's Perfect for Halloween. Incorporating the traditional colours of orange and black, as well as adding modern grey and peach tones into our mood board, we were inspired by the creepy long lines of the trees in Lysterfield Park. The way the light filters through the trees, the feeling that the dense forestry gave us, left us with goosebumps. It just had an uncanny magic about it! Therefore our Halloween vision of Scary-Tales came to life; quite literally.
With the amazing help of
Lombard the Paper People
, who supplied all of the decor, party ware, furniture, costumes, balloons and the ever important scary props, we had such a bloody blast putting this all together. The team from
Lombard
created a ginormous balloon garland that stretched over 12 meters long, as our team busily styled the table setting to create a spooky display of unearthly (but still delectable) desserts.
Kryolan Professional Makeup Australia
was busily transforming our models into characters that will feature in our Scary-Tales story; Belle and Beast, Little Red Riding Hood, Count Dracula and Maleficent. To really set the mood for the long dessert set up,
Dusk Australia
provided us with some of their new (and freaking cute!) Halloween range, from light up ghosts, haunted houses tea-light holders, BOO pumpkin head tea-light holders to black tapered candles on black metal holders. The addition from
Dusk
really brought the desserts (back) to life.
Speaking of the devil (desserts!), we were generously provided fine chocolate from
Whittaker's
and four amazing dessert designers who all created delicious treats for the shoot using their chocolate.
Whisked Away Desserts
who was provided with the dark chocolate range, had created graveyard dessert cups using
Lombard
cups, Halloween themed cookies, candy toffee apples, and bloody jam doughnuts.
Sweet Ems Cakes
had been assigned white and milk chocolate to play with and she had created the 3 tiered Bone cake and the mini black cobweb cake.
The Sweet Event Cupcakes
was also assigned white and milk chocolate and provided us with a dripping bloody cake adorned with creepy crawlies, Halloween themed chocolate bark and bloody cupcakes and last but not least,
Zephyr and Bloom
provided us with the rectangular trick o' treat black cake, brownie brains, mini ghost cupcakes, mini mummy cakes, mini shard and blood cakes and spider stroopwaffles.
https://youtu.be/zRKwfKVr9lk With such a dream team to have worked with this year, we hope you enjoy our spook-tacular Scary-Tales Halloween Editorial!
VENDORS
All decor, furniture, balloons, costumes:
Lombard the Paper People
Professional Special Effects Makeup:
Kryolan Professional Makeup Australia
Candles and Candle related products:
Dusk Australia
Chocolates:
Whittaker's Chocolates
Desserts:
Whisked Away Desserts
,
Sweet Ems Cakes
,
The Sweet Event Cupcake
and
Zephyr and Bloom