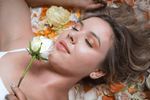 Winter was wonderful but now we're eager to bring on Spring! Blooming flowers, fresh cut grass, and blue skies; we're at the cusp of a heavenly season and here at OIP, we thought what better way to introduce the forthcoming beautiful sunshine than with a Spring Floral Beauty Editorial! We wanted to showcase upcoming Spring makeup trends adorned with the most exquisite flowers!
BLOSSOMING PINK
A colour that is ever-present in the spring season and ubiquitous on the 2017 Spring Fashion runways, our Beauty Editorial would not be whole without the colour pink! A shade that can be both a striking statement or a sweet delicate tint, Paula Maree captured this paradox perfectly. With her expert artistry, Paula shows us an all pink makeup look that is soft and romantic, yet fierce at the same time. Finalising this look, our amazing hairstylist, Stephanie Rose, styled Paula's long tresses into soft effortless waves.
LOVELY LAVENDER
Orchids, lilacs, violets and lavenders - all beautiful Spring flowers and a colour that we needed to showcase in our editorial! Makeup artist, Anmay Zhu did a sensational job at demonstrating this elegant colour with a monochromatic lilac look on our model. Kate McLean's beautiful hand-made flower crowns and Stephanie Roses' tousled waves added to this graceful look.
PERFECT PEACH
Arguable the biggest makeup trend of this upcoming season and quite possibly of the entire year, this fruit-inspired colour had to be featured in our editorial! From celebrities on the red carpet, beauty gurus on Youtube and makeup brands around the world, peach makeup is seen everywhere! Talented makeup artist, Jessica Black showcased this trend and peached it all out for our editorial, with flirty coral eyes and luscious apricot lips!
SPRING FRIENDSHIPS
There's something special about friendships that bloom in the spring time and we wanted to capture this! Paula, Chantelle and Jessica were all adorned with Kate McLean's gorgeous hand-crafted flower crowns and braided by Stephanie Rose.
Creative Director + Wardrobe: OhItsPerfect Photographer: Mark Fitzgerald Models: Paula Maree, & Jessica Black Flowers: Kate McLean from Mary Mary Studio Makeup Artist : Anmay Zhu Hairstylist: Stephanie Rose
SaveSave SaveSave