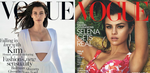 Quite possibly the most renowned fashion bible, Vogue is not only known for their fashion but, also for their beauty. From Selena Gomez to Cara Delevigne, come along with us as we go through some of Vogue's best covers and how to achieve the makeup looks!
SEXY FELINE
This year in April, Selena Gomez made a breathtaking cover debut on America's number one fashion magazine. She featured the latest spring fashion trends with a dramatic winged out eye makeup that made her look even more seductive! Get the look down below!
Image via:
@voguemagazine
GET THE LOOK:
To get Selena's sultry cattiness try using
ANASTASIA's Waterproof Crème Colour
in Jet Black.
This mega-pigmented gel cream formula is ultra long wearing and resists smudging or fading - even in heated temperatures! This product is perfect to give you that intense feline flick!
Image via:
@anastasiabeverlyhills
NUDE & SOPHISTICATED
Think what you will of Kim Kardashian but, there's no denying of her influence in the fashion and beauty world of today. Wearing a stunning ivory number from Balmain, Kardashian graced the February cover of Australian Vogue with an elegant nude makeup look.
Image via:
@vogueaustralia
GET THE LOOK:
To get Kim's neutral sophisticated look try
MARC JACOBS New Nudes Sheer Gel Lipstick.
Made with the smoothest gel formula, this is an entire range dedicated towards nude lipsticks! From the deepest to the fairest, there is sure to be the perfect nude for your skin tone in Marc Jacob's line!
Image via:
@beautylookbook
THE CARA BROW
The girl who changed the world's brow game, Cara Delevigne made a royal impact on the cover of Australia's October issue and was crowned "Miss Cool". Cara gave everyone brow envy and basically paved the trend for thick bushy brows. To get the "Cara Brow" scroll down further!
Image via:
@vogueaustralia
GET THE LOOK:
To get Cara's beautiful bold brows, opt for
ANASTASIA's Dipbrow Pomade!
This is the perfect product to give you those full and defined brows! It's gel formula is super long wearing, smudge-free and waterproof!
Image via:
@meganjanelillie
PERFECTLY BRONZED
One of today's most prominent, if not the most succcesful, models of colour, Jourdan Dunn makes the cover of Vogue Turkey March 2015 issue. To compliment the white dress, Jourdan sports a gorgeous bronzed look.
Image via: @vogueturkiye
GET THE LOOK:
To get Dunn's beautiful bronzed makeup look, try
MORPHE's 25B - Bronzed Mocha Eyeshadow Palette.
This incredibly buttery and pigmented palette has 25 different depths of brown with a range of finishes from shimmer to matte. The is the ideal item for this bronzed look!
Image via: @terriheckley