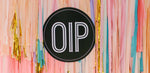 Since its beginnings, OIP has worked with vendors directly on projects of all colours, shapes and sizes. As OIP is all about collaborating, we loved the idea of bringing together some of our favourite creatives to celebrate the relationship we have, and share in our exciting newest chapter. This launch was about debuting our fresh new look for our website, and the newly made-over Marketplace, which was first launched in 2014. Previously having focused on the crème de la crème of all things "party", OIP is now branching into beauty, fashion and lifestyle, transforming OIP into a one-stop shop to inspire our audience for all fabulous facets of life. We are giddy with excitement thinking of how our brand spanking new Marketplace will enable style-loving Australians to be inspired by what is possible, and directly connect with creatives around the Australia, to create something truly special. As avid lovers of all things spectacular, it is exciting to think what the future has in store for us! https://youtu.be/maMQhVtMNSs On the day of the launch, the sun was filtering through a perfect blue sky, giving us breathtaking views of Melbourne from
The Langham Hotel'
s rooftop. Staying true to OIP style, we pulled all the stops to create a beautiful space for people to mingle and enjoy, with gorgeous feature walls and interactive stalls for our guests. Our streamer background, by
Poppies for Grace
, was a perfect fit for the room, as well as the magnificent balloon installation by
Belle Balloons
. Guests were able to make jewellery, with the lovely Julie from
Aacute
, make a fabulous bouquet with Kate of
Mary Mary Studio
, and take home a customised bath bomb by the girls from
Fake Treats
. No media launch, of course, would be complete without some cheeky moustaches and flamingos to pose with, with the photo booth from
The Photo Booth Guys
. We couldn't resist adding some of our cute hash tags such as
#fridgesituation
and
#oipstyle
! Our guests sipped on cosmos, laughed, mingled, and returned home with some glorious goodie bags containing
The Daily Edited
leather travel tags,
Thank You
water and sanitizer, fairy floss from
Under the Cotton Tree
, choccies from
Pana Chocolate
, marshmallows from
Toasty
, OIP cookies by
Sugar Rush by Steph
and
Sucre Sprinkles
. Our team was dressed to the nines with threads from
Beyond your Wardrobe
, and glammed up with the help of
Caitlyn Iskra
,
Angeline Tuazon
, and
Jessica Black
. Our locks were looking on-point as ever thanks to
Hair Styling by Sally
.
TEAM OIP
Acoutasy
provided the feel-good tunes and helped create some wonderful ambience, nestled behind some spectacular OIP lights by
Light Up Events.
Big thanks to all those who were a part of our special day and cheers to a fruitful future together!
#watchthisspace
Venue:
The Langham
Balloons:
Belle Balloons
Streamers:
Poppies for Grace
Flower station:
Mary Mary Studio
Earrings station:
Aacute
Bath bomb station:
Fake Treats
OIP lights/mesh walls at stations/ wooden arch:
Light Up Events
Photo booth:
The Photo Booth Guys
Goodies bags:
Leather travel tags:
The Daily Edited
Fairy floss:
Under the Cotton Tree
Chocolates:
Pana Chocolate
Marshmallows:
Toasty
Cookies:
Sugar Rush by Steph
Water + sanitizer:
Thank You
Sprinkles:
Sucre Sprinkles
Hair:
Hair Styling by Sally
Makeup:
Caitlyn Iskra
,
Angelie Tuazon
,
Jessica Black
Wardrobe:
Beyond your Wardrobe
Save
Save