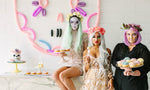 BOO! With Halloween just around the corner, things are getting a little ghoulish here at OIP, as we share with you our HOLOGRAPHIC HALLOWEEN Editorial.
Instead of going for the standard children-centric shoot, we wanted something delightfully different- something that encapsulates that pretty #ohitsperfect essence!
And what better way to do it than by juxtaposing this typically morbid theme with a heavenly pastel holographic palette?!
Partnering with NYX Professional Makeup, we knew things were going to be simultaneously scary yet stunning! All of our Halloween babes created their different looks using NYX products to showcase what is possible, with each model taking on a different look! The girls were also decked out in some lovely outfits from Beyond Your Wardrobe.
The captivating looks were completed with some colourful locks from The Wig Outlet and topped off with some pastel floral crowns from Style Me Flowers. The table was adorned with some #amazing pastel partyware from Ruby Rabbit Partyware.
Our feature wall was inspired by the candy skulls known famously from the Mexican celebration, Día de Los Muertes (Day of the Dead). This was pulled together by Blowout Balloons and some on-trend paper flowers from Paper Flower Creations.
The gorgeously gruesome desserts table, made by La Manna Patisserie, was made picture perfect with our furniture provided by Harry the Hirer and cake stands by Burnt Butter Cakes.
Furniture:
Harry the Hirer
Balloons:
Blowout Balloons
Florals:
Style Me Flowers
Partyware + gift bags:
Purchase here
or
Ruby Rabbit Partyware
Desserts: La Manna Patisserie
Paper flowers:
Paper Flower Creation
Cake stands:
Burnt Butter Cakes
Stationery and gift bag labels:
Alpine Events Co
Makeup: NYX Professional Makeup Models: Lauren Butcher, Katelyn Morris, Amanda Rast, Kaitly Acorn, Melissa Ryan, Maria Thattil, Lara Wirth Wardrobe: Beyond Your Wardrobe Wigs: The Wig Outlet
Save
Save
Save
Save
Save
Save
Save
Save
Save
Save
Save
Save