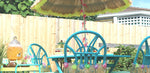 We set out a challenge to style a luxe christmas table/dessert table for under $75, and our creative directors Astrid and Larissa did not fail to impress. Just goes to show you don't need to spend a lot to host a stylish soiree. Over the next few days we will be showcasing the OIP Luxe For Less series, hope you get inspired to create something equally stunning this Christmas.
Tropical Christmas Brunch by our Creative Director in Melbourne-Larissa of Sweet On Parties
I was quite excited when l was requested to create a Christmas tablescape for $75 or less as a part of the OIP Luxe for Less series. Immediately l knew l wanted to create a tropical inspired table, as not only is it very on trend but it is also highly accessible, with many items being available in mainstream stores like Kmart! I know this is not your usual Christmas table but to me it screams Summer and so l wanted to embrace an Australian Christmas and create a tablescape that was fun, relaxed and oh so Summery!
Every year our Christmas starts with a relaxed brunch with our nearest and dearest. It really is a wonderful way to kick off the Christmas Celebrations! For this shoot l gave it a bit of a tropical 70's twist and mainly used store bought goods to keep within budget and to make it easy to replicate! I was inspired by 70's menu items such as vol au vents and reinvented them into a brunch item by filling them with scrambled egg and chopped bacon. I also used canned fruit to keep costs down and used canned pineapple and apricots atop my store bought waffles. Passionfruit pulp was also used to top my bircher muesli giving it a bit of tropical flair and l also made some boozey cocktail tart cupcakes which is one of my favourite South African recipes from my sister in law and topped these with fresh cherries. Finally a soiree in our house is incomplete without punch being served, so l filled the Pineapple Drink Dispenser l bought from Kmart for $19 with tetra cartons of tropical juice, ginger beer and lemonade, as well as rings of ruby grapefruit to give it a bit of punch!
For the party décor l had many of the items already from previous parties and then l borrowed a few items too such as the cute garden flamingos, the straws with tropical cut outs, the flamingo lights which l wrapped around the faux straw umbrella l bought from target a couple of years ago and that cute ceramic pineapple pen holder which l used for my cutlery. The only party décor item that l did buy were the faux grass hula skirts that l used to decorate the chairs as l wanted them all to match and at a bargain $3.50 a piece l could not resist. I used leis from a previous party to thread through the umbrella and then used the rest of my budget on the paper plates, cups, serviettes and a honeycomb pineapple from Kmart.
l loved every minute of this challenge and so did my kids! It was a fabulous day of fun in the sun and a day we will remember in the years to come! It really was such a fabulous challenge to be a part of and it is amazing what you can achieve and how creative you can get when working within a budget!! I wish you all a Very Merry Christmas and may your New Year be bright and beautiful! XOXO Larissa
BUDGET BREAKDOWN
Pineapple Drink Dispenser
$19
Kmart Yellow Chevron Plates
$2
Kmart Yellow Chevron Cups
$2
Kmart Pineapple Serviettes
$2
Kmart Honeycomb Pineapple Decoration
$2
Kmart Grass Hula Skirts 4 x $3.50 =
$14
($2 Shop Williamstown) Food from Woolworths $35.60 with 5% Staff Discount
$33.82
Total Costs $ 73.82
TOP TIPS
When planning an event think of the items you may already have and use these to base your theming around!
Beg and Borrow! When working on a budget ask those near and dear to assist by making something for the event or borrowing items such as platters, cake stands, stemware, tables, chairs and party decor etc.
Reinvent the old by upcycling it into something new! Collecting various jars for instance and upcycling them into vases, candles, centrepieces or gifts is not only environmentally friendly but budget friendly too!
Op Shops are fabulous too for furniture finds and upcycling them into one of a kind pieces!
Spray Paint is your best friend! It is amazing how you can transform anything with 1 little can of spray paint!
Have Fun by getting your DIY on and getting a bit crafty! You will be amazed what a little imagination can achieve!