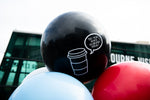 We are one lucky group of teammates to be able to call Melbourne home! Voted the World's most liveable city seven years running, we rank pretty much on top on every list for all these reasons: excellent choice of cafes and restaurants, the impressive variety of cuisines, a multicultural community that's all accepting, hosting world-renowned events such as Melbourne Cup, Grand Prix and the Australian Open - but right up there is our effortless sense of fashion and our delicious brunch hotspots.
We wanted to celebrate what it means to be a true Melbournian, so with the help of
Annaliese Gann
- Melbourne's very own body positive ambassador, we roamed the streets of our great city without a care in the world! Annaliese was provided with threads from Melbourne based
The Gray Label Store
, and Melbourne designed shoes from
Ballettonet
designed in collaboration with fashion style influencer Jasmine Howell from Friend in Fashion (not including black open-toed heels). Annaliese was treated to a pamper session thanks to
Foresta by CATS Hair & Beauty
to get her lovely locks and makeup done by Ricky, who brought out Annaliese's inner glow even more.
In true OIP style, it would only be fitting to wander with customised jumbo balloons supplied by
The Confetti Room
, customised with quintessential Melbourne expressions that you would likely hear Melbournians muster frequently such as, "Smashed Avo", "Four Seasons in One Day", "Do you have almond milk?" and "Melbourne & Me". Nothing catches the eye of a crowd better than walking through Federation Square, Degraves Street and Chinatown better than with a bundle of jumbo balloons!
After all that wandering, one must complete the Melbourne ritual of getting a coffee, so our first stop was at
Heresy Cafe
(pronounced Hair-es-see!), in the hub of Melbourne CBD. We were greeted with smashed avo, The Chick Queen salad, The B.E.T.S bread roll, and jars of chia pudding goodness. Nothing is more Melbourne than a healthy, delicious, Gluten friendly, vegan-friendly brunch.
But a day out in Melbourne cannot be complete without feeding that sweet craving, and it only made sense to visit
The Dessert Kitchen
in Chinatown. This kitchen makes arguably one of the best hot chocolates (it also comes with a cute marshmallow bear) in town! They also make jelly ramen, waffles with homemade ice cream, black glutinous rice with coconut milk, mango pudding, scented tea flavoured jellies, lychee soft serve and famous Hong Kong egg waffles. It was a feast for the eyes and the sweet soul.
Sometimes we take for granted what a wonderful city we are lucky enough to call home, we thank all our wonderful vendors and venues who participated and hope we took you through a fun journey through a typical Melbourne day!
VENDORS
Model:
Annaliese Gann
Venues:
The Dessert Kitchen
&
Heresy Cafe
Balloons:
The Confetti Room
Hair & Makeup:
Foresta by CATS hair & beauty
Clothing:
The Gray Label Store
Shoes:
Ballettonet